City of Dilley water rates are the highest in the region, and many questions surround how the meters are read, and where the revenue goes…

"YOU MUST HAVE A LEAK."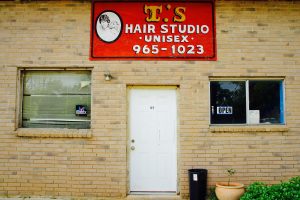 Dora Torres, a resident of Dilley for 56 years, noticed the water bills at her beauty salon suddenly increasing. In August of 2016, she was charged for 17,440 gallons- far higher than her average use. The next month, her usage climbed even higher: 27,280 gallons. This was impossible, she thought. Her business was open only on Fridays and Saturdays, and she wasn't running water continuously throughout the day. Torres took her $256 water bill to the city.
"I was so scared," Torres said. "I told them 'why?!' They said, 'you must have a leak.'"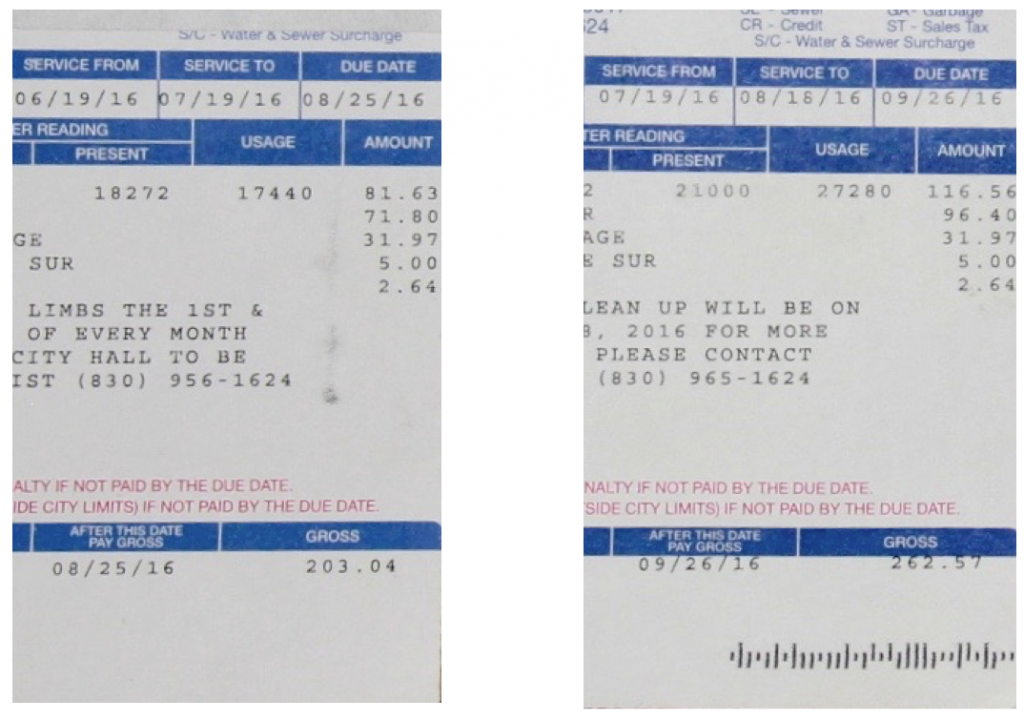 It's a common refrain heard by many who bring unusually high water bills to the City of Dilley for verification. But when Dora Torres checked her water meter, the small dial indicated no problems. Plus, a 27,000 gallon leak would be hard to miss on the small plat of property, as only 14,500 gallons would fill a 5-feet deep, 21-foot round pool.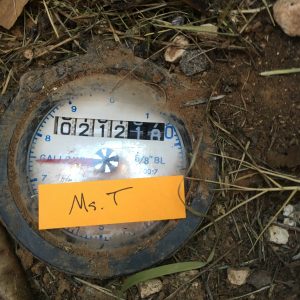 For the next month, a photo was taken of Torres' water meter each day. The idea was that the photos would indicate whether a spike in usage was attributable to Torres beauty salon habits, or if the spike happened during off-hours, suggesting that someone else was manipulating the numbers. But a funny thing happened- the next bill indicated a shocking drop. After allegedly using 27,000 gallons in September, Torres was charged for only 2,450 gallons the next month. Her bill has hovered around that usage ever since.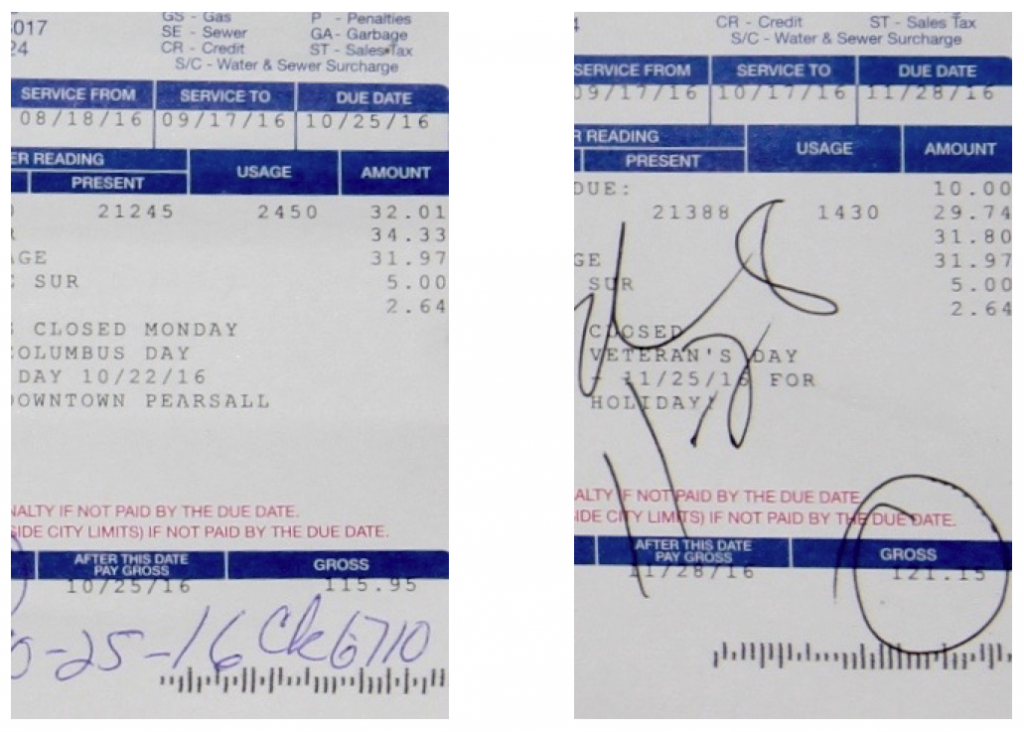 The results of the Torres water meter experiment are far from scientific. It is possible, for example, that in being more vigilant after a high water bill, Ms. Torres also changed her usage habits, somehow accomplishing a 22,000 gallon reduction in one month.
However, the City of Dilley faced two other high profile accusations over water meter readings in the past year alone. Constable Rene Lozano publicly threatened the City of Dilley with a lawsuit after allegedly filming a city employee sitting in his truck rather than exiting and reading the meter. That employee was terminated by the city soon after.
Even after the termination of that city employee, the Dilley Housing Authority was hit with a $12,000 bill for 1,600,000 gallons of water, 3-4 times higher than average according to Executive Director Norman Martinez.
Martinez suspected that an old broken meter was used for readings. "That meter doesn't move. They come and read it. The numbers are still the same, so we should pay $0. Yet, we're still getting charged the $12,000."
Dilley Housing Authority has the luxury of a team of corporate lawyers and Constable Lozano has the weight of an elected position when they confront City Hall. But what about the average Dilley resident?
UNUSUALLY HIGH WATER RATES
A survey of water rates shows that Dilley residents pay by far the highest rate in the region. According to the Texas Water Development Board, a single family household uses an average of 367 gallons per day, or 7,380 gallon in a month. Based on that average, here are the rates in nearby cities*:
(*prices per 1,000 gallons)
There are several hundred water utilities in the State of Texas- and no single source compiles all utility rates due to the complexities of tiered pricing systems. However, several phone calls to water utilities around the state yielded no rates close to Dilley's $3.72.
Dilley's water rate is above average for Texas, even though median household income is below the Texas average, and we have more residents who live in poverty compared to the rest of the state. According to the latest Census data, Dilley median household income is $37,014, compared to $53,207 statewide. Furthermore, 31.8% of the Dilley population lives below the poverty level, compared to 15.9% statewide.
Dilley's current water rate policy was brought before Dilley city council on March 10, 2015- the same meeting in which the municipal election was cancelled due to lack of challengers for the positions of city council and Mayor. The water rate ordinance passed at the very next meeting.
RECEIVED A DISCONNECT NOTICE LATELY? YOU ARE NOT ALONE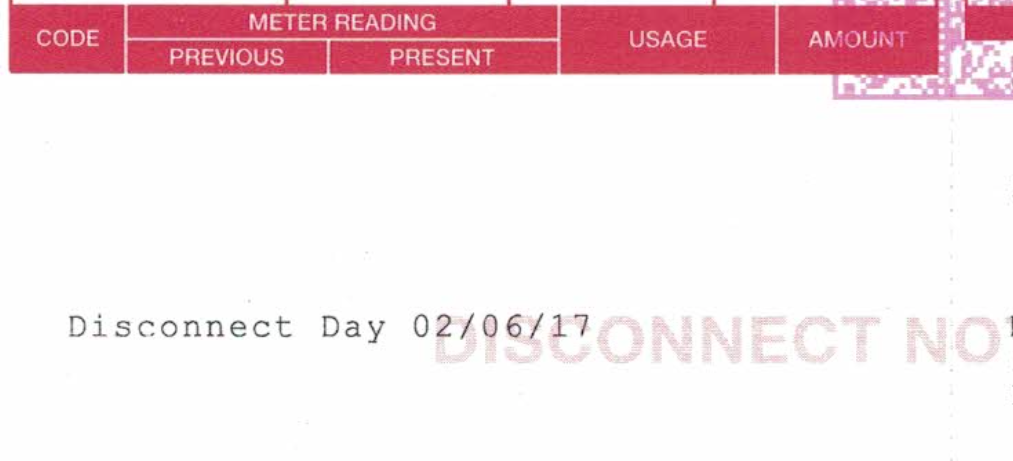 The news gets worse for Dilley rate payers. The high water rate is paired with a disconnect policy that is stricter than the Public Utility Commission (PUC) guidelines for water utilities in their jurisdiction. The City of Dilley water utility, however, is not in PUC jurisdiction and the State of Texas does not regulate disconnect policies.
For a PUC water provider, "the disconnection date must be 10 days from the date the notice is issued." Many municipalities are more generous with their time between notices and disconnect. Pearsall for instance, allows 25 days after the billing date. Dilley typically sends notices only 7 days before disconnect, including a weekend during which City Hall is not open and unavailable to receive payments.
Mayoral candidate Gilbert Ortiz paints a picture of the disconnect process. "There's only one word to describe it: cruel. Considering how high our water rates are compared to everyone else, it's a cruel system to inflict on our own community. Most people are paid every two weeks or every month. 5 business days is not enough time to receive your check, cash it, then get to city hall to pay your bill. Elderly? Disabled? Missed the mail or just forgot for a week? We're human. It happens. Doesn't matter. They have no problem disconnecting you that day, then they're going to make extra profit off of you by charging you with a reconnect fee."
The result? In November alone, nearly 400 residential water accounts were mailed the red disconnect notices. There are only 1160 residential water accounts in Dilley, which means that in any given month, more than one-third of Dilley's population is threatened with water disconnection.
SPENDING MONEY LIKE WATER
Most water rate payers would expect that water utility money stays in the water utility fund, in order to repair or maintain infrastructure or even lower rates when the fund swells to a large enough amount. This is not true in many Texas municipalities that own their water utilities and certainly not true in Dilley.
In October 2016, the City of Dilley wrote a $400,000 check from the city's water fund, and deposited the money in the city's general fund.

According to the city's FY2016-17 budget, the general fund (largely a combination of property taxes, sales taxes, and fees) was projected to have $2,199,540 in revenue. Nowhere in the general fund budget, passed by ordinance, is water revenue indicated. The ordinance was passed on September 27 and less than a week later, Dilley subsidized nearly 20% of the general fund with $400,000 of water utility income.
"This is exactly what I'm talking about," said City council candidate Sabino Mena. "Gross financial mismanagement. We're paying one of the highest water rates in the state, and they use that money for the general fund, even though we also have the highest property tax rate in the region. That means our water bill is spent on things like their new offices at the new $4 million city hall. It's a tax on top of tax. And to move that money at the very beginning of the fiscal year, it makes you wonder if they even believe their own budget numbers."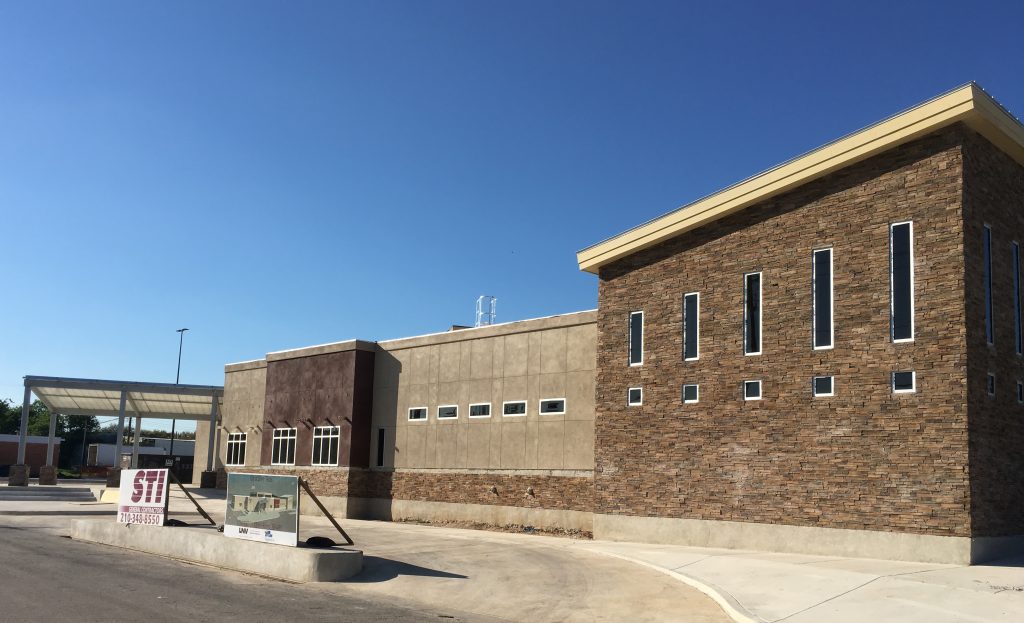 POTEET ISD FIGURES OUT OVERCHARGES
In the February 1st, 2017 edition of the Pleasanton Express, a headline was splashed across the front page: "Poteet ISD over-billed more than $10k by city." Sound familiar?
Cesario Vela of Communities Unlimited investigated the issue and presented his findings to the Poteet school board. Among the problems, when a particular water meter was finally turned on after two years of inactivity, the school board was charged for the reading on the meter, not the difference in usage from month to month. Also, the school district was also being charged for wastewater services in areas where they actually had septic tanks and should not be charged for wasterwater- an issue City council candidate Sabino Mena has brought to the City of Dilley as well. Finally, meters were not charged according to their proper size.
According to Vela in the Pleasanton Express, "Basically, what they were doing was they were billing you incorrectly. I did four cycles of billing. I actually calculated what it should have been on those two meters that they were making a mistake on. In just those four cycles, it's over $10K. That's not including the sewer charges that were also charged incorrectly."
Poteet ISD's Director of Finance, Amanda Garcia, worked with the school's attorneys on options moving forward. The City of Poteet, which runs the water utility in question, is represented by the same city attorney as the City of Dilley.
Mayor Mary Ann Obregon did not respond to multiple requests for interview.
Election Day is Saturday May 6.
–written by Jose Asuncion. 
Jose received an MFA from University of Southern California in 2008, a BA from the University of Illinois at Chicago in 2003, and is a former writer/photographer for the Frio-Nueces Current of South Texas. He currently lives in Dilley, TX, home of his grandparents.