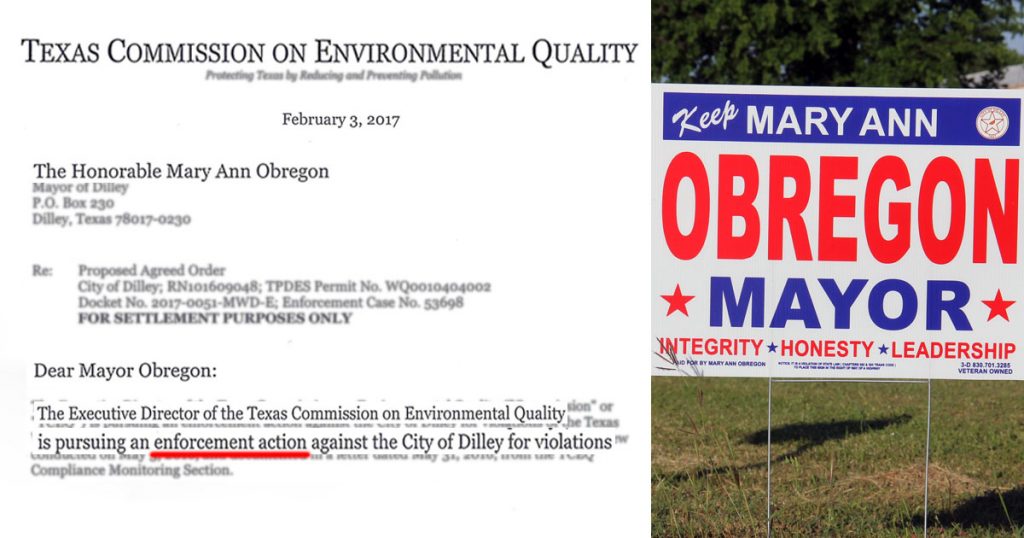 Recently released documents show that the Texas Commission on Environmental Quality has pursued "enforcement action" as recently as February for unresolved e. coli and suspended solids limit violations that started in 2015. The violations and potential penalties have yet to be mentioned in city council meetings.
On January 11, 2017, the Enforcement Coordinator from the Texas Commission on Environmental Quality attempted to contact Mayor Mary Ann Obregon. His notes read simply: "called and left a message requesting a return call."
Three weeks later, on February 3, 2017, the Enforcement Division sent a letter addressed directly to Mayor Obregon. The first paragraph reads: "The Executive Director of the Texas Commission on Environmental Quality is pursuing an enforcement action against the City of Dilley for violations of the Texas Water Code and/or Commission Rules. These violations were discovered during a record review conducted on May 3, 2016, and documented in a letter dated May 31, 2016." By the time the February enforcement letter was mailed, TCEQ had sent eight "written notices of violation with same or similar violations as those in the current enforcement action," and the City of Dilley did not meet "good faith efforts to comply" criteria.
The alleged violation that led to TCEQ's enforcement action occurred when "an investigator documented that the Respondent failed to comply with permitted effluent limits…" "Effluent" generally refers to liquid waste, and in the case of this violation, to sewage elements such as e. coli and "suspended solids." The violations are not only a sewage issue but also a water issue, as effluent limits are designed to "maintain water quality in accordance with the commission's surface water quality standards." The facility named in the report is the City of Dilley's wastewater plant located near the prison, next to several water facilities including a water well, pump facility, and storage.
TCEQ's table shows that the wastewater plant in question did not simply exceed e.coli limits, but blew past them in certain months. A few examples:
E. coli daily average concentration limit is 126 CFU/100mL.
February 2015, TCEQ reported the Dilley plant's average as 220 (1.75X the limit)
March 2015 average: 563 (4.4X the limit)
January 2016 average: 1210 (9.6X the limit)
The total suspended solids daily average concentration limit is 90mg/L
August 2015 average: 104 (1.1X the limit)
January 2016 average: 299 (3.3X the limit)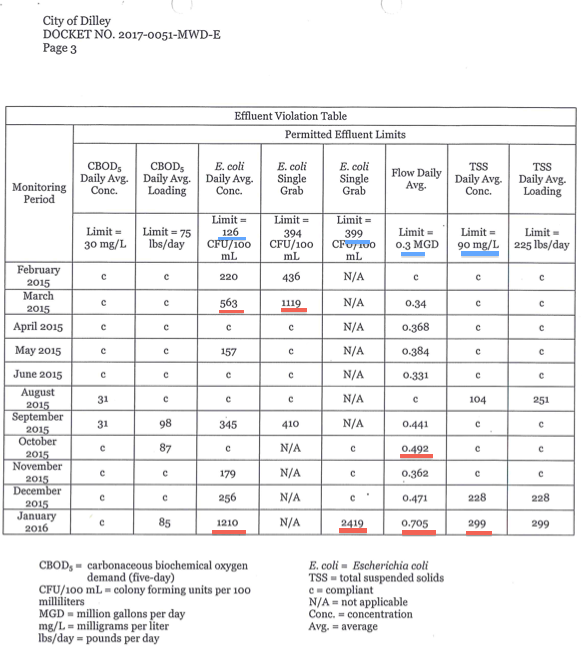 In one of the violations, according to the "Environmental, Property, and Human Health Matrix" measuring harm level of e. coli and carbonaceous biochemical oxygen demand, TCEQ indicated actual moderate harm, as opposed to just potential harm.

Furthermore, other documents from TCEQ reveal more violations. And out of eleven violations first reported in 2014, only one had been corrected one year later. By 2016, three were still outstanding. This negligence is particularly notable because around the same time, the City of Dilley borrowed millions specifically to improve water, and sewer, and… the $4 million dollar convention center/city hall.

 A BRIEF TIMELINE OF CITY BORROWING
April 23, 2013: $5.25 million certificates of obligation loan for "water treatment facility improvements," "gravity flow system and improvements to the sewer system," among other items.
June 24, 2014: TCEQ completes Comprehensive Compliance Investigation, citing eleven violations to be corrected by the City of Dilley.
July 29, 2014: $1.1 million certificates of obligation loan for "visitor and convention center," and "water and sewer system improvements," among other items.
April 14, 2015: Dilley city council unanimously passes an ordinance raising water and sewer rates.
September 29, 2015: $2.5 million certificates of obligation loan for "city library," "water and sewer system improvements," among other items
October 22, 2015: TCEQ review shows that only one violation out of eleven was resolved from the previous year's investigation, and one violation was added.
February 9, 2016: Dilley City council unanimously approves "final plans for the Convention Center/Library/City Hall at a total of $4,404,645."
April 26, 2016: Dilley breaks ground on Convention Center/City Hall
May 26, 2016: TCEQ completes another investigation, finding three violations from 2014 that had not been corrected.
May 31, 2016: TCEQ documents, in a letter, violations related to e. coli and suspended solids at a Dilley wastewater plant.
June 2016-January 2017: TCEQ sends eight notices of violation regarding effluent limits to the City of Dilley.
February 3, 2017: TCEQ sends letter of enforcement to Mayor Obregon. TCEQ's wastewater enforcement action has not been mentioned in any of the four city council meetings since the letter was sent.
March 16th, 2017: Mayor Obregon releases a campaign ad in the Frio-Nueces Current. The largest paragraph touts water and wastewater improvements.
TCEQ's enforcement includes a $12,250 fine for the violations. As part of the proposed settlement sent to Mayor Obregon, the City of Dilley is allowed to deny each allegation, though Dilley will still be assessed penalties. The letter also listed options for lowering the fine. However, Dilley's response is unclear, as the enforcement action has never been mentioned in a city council meeting- a possible violation of Texas' Open Meetings Act.
"What do they care? Who do you think is going to pay those fines?" asked Mayoral candidate Gilbert Ortiz. "Dilley taxpayers. The Mayor isn't going to open up her wallet and pay it. If the council disputes the fine, we still pay the city attorney so one way or another, it's coming out of Dilley taxpayer pockets. This negligence is why our taxes are so high. It's why our water rates are so high. It puts our health at risk. And their solution is to sweep it under the rug."
Mary Ann Obregon has not responded to multiple interview requests made both in-person and by email.
The full letter from TCEQ is downloadable here.
–written by Jose Asuncion. 
Jose received an MFA from University of Southern California in 2008, a BA from the University of Illinois at Chicago in 2003, and is a former writer/photographer for the Frio-Nueces Current of South Texas. He currently lives in Dilley, TX, home of his grandparents.