As online discussion about Dilley's change in building permit fees tended toward the merit of the fee, council member Ray Aranda took the opportunity to steer debate in that direction, rather than address the real topic at hand: the lack of transparency in the last city council meeting.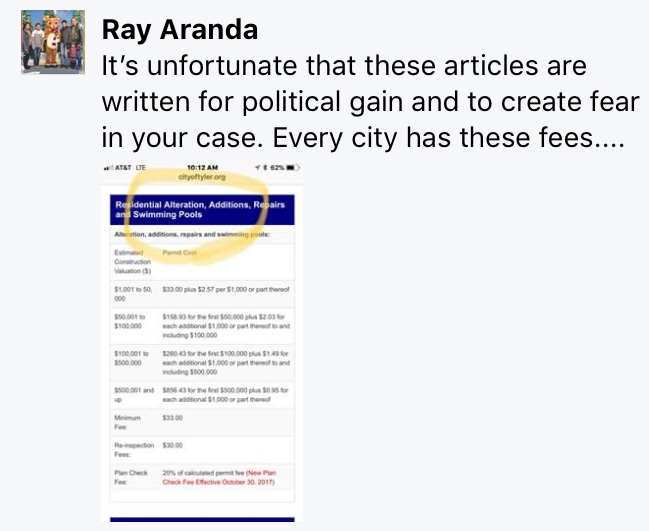 And, if that's the argument, Aranda was right. Every city has these fees.
However, because the incumbents have become accustomed to waving  pieces of  paper in front of you to defend their actions, cynically believing you won't actually read it, let's take a closer look at that Tyler, TX rate schedule posted by councilman Ray Aranda: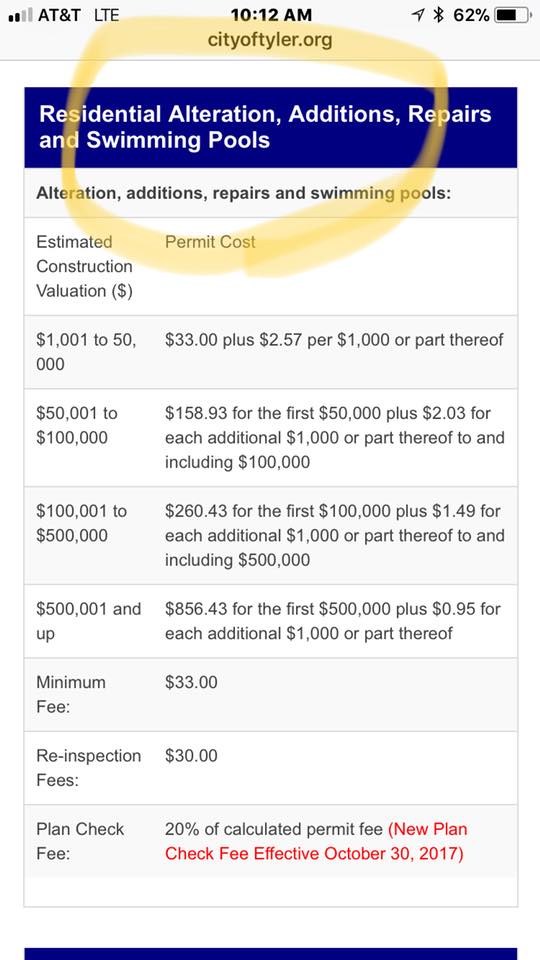 Now let's do some side-by-side comparisons of Dilley's new rate compared to Tyler's rate:
$1 exterior improvement
Dilley fee: $5
Tyler fee: $33
$500 exterior improvement
Dilley fee: $5
Tyler fee: $33
$1000 exterior improvement
Dilley fee: $20.25
Tyler fee: $33
At this point, the city may take a victory lap because not only does Tyler have fees, but they are higher than Dilley's.
But by the time you're ready to drop $2000 dollars on improving your home, something interesting happens. Dilley's fees not only jump, but increase at a far more accelerated rate than Tyler…
$2,000 exterior improvement
Dilley fee: $50.75
Tyler: $38.14
$2,001 exterior improvement
Dilley fee: $83.25
Tyler fee: $40.71
$5,000 exterior improvement
Dilley fee: $111.25
Tyler fee: $45.85
$10,000 exterior improvement
Dilley fee: $181.25
Tyler fee: $58.70
$50,001 exterior improvement
Dilley fee: $643.75
Tyler fee: $160.96
$100,001 exterior improvement
Dilley fee: $999.35
Tyler fee: $261.92
$500,001 exterior improvement
Dilley fee: $3,238.50
Tyler fee: $857.38
$1,000,001 exterior improvement
Dilley fee: $5611.90
Tyler fee: $1332.38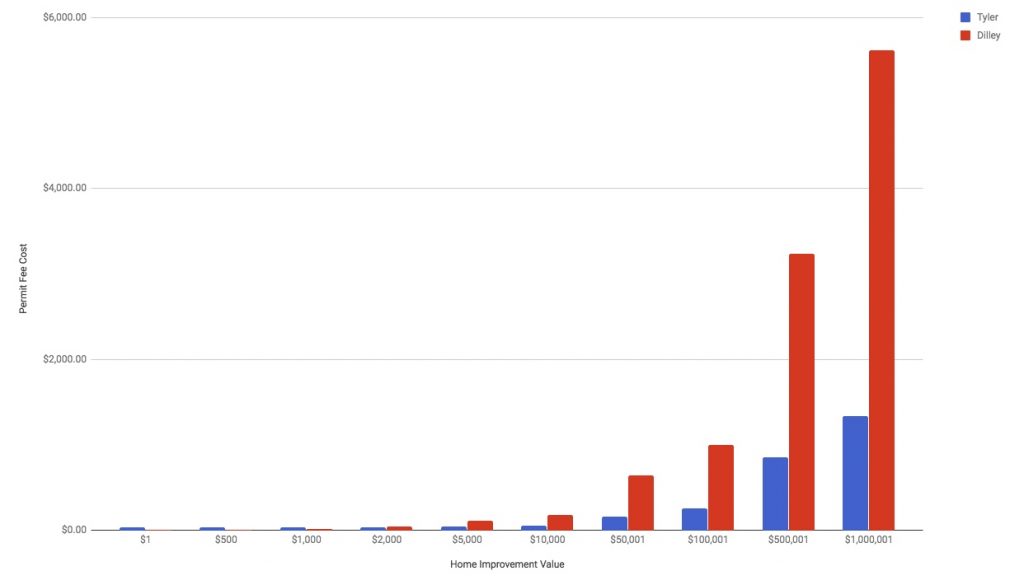 Here are some of the questions a more functional city council might ask when confronted with facts that (1) the city was charging an amount incommensurate with their own ordinance and (2) the public was told only one fee line item was changed when, in fact, several were changing:
Why were we charging an amount that contradicts our  own ordinance?
Which charge made it to our books? The lesser ordinance amount or the higher erroneous amount we charged?
How can we prevent these mistakes from happening again? Is there someone that should be held accountable?
What is the purpose of the permit fee, or, what city expenses do these fees address?
Is the amount of the fee consistent with city expenses or is our permit fee structure going to unrelated expenses?
Is the fee appropriate for our town and how does it compare to similar towns?
Should the council play a part in the improvement of the "look" of the city of Dilley? If so, does the amount of these permit fees inhibit or promote this mission?
And the question for Dilley voters should be:
Do I trust the incumbent council members to thoroughly research these issues, confront problems rather than conceal them, and discuss them in an open and transparent manner?
 Note: The language of the amended Dilley ordinance requires permit for "new construction, remodeling, repair and additions to the exterior of the home; this includes decks, patios and covers, accessory structures, gazebos, barns, sheds, driveways, swimming pools, sidewalks, dog kennels and/or all other type of construction."
[tminus t= "05-05-2018 07:00:00″ before="Dilley City Council Election Day Is Saturday May 5…" style="hothsecond" omitweeks="true"] Election Day is Saturday May 5.[/tminus]
The list of Dilley city council candidates is available here.
–written by Jose Asuncion. 
Jose received an MFA from University of Southern California in 2008, a BA from the University of Illinois at Chicago in 2003, and currently lives in Dilley, TX, home of his grandparents.