Dilley's wastewater and water woes have been escalated to the federal level through Environmental Protection Agency violations. This information was revealed in a presentation from Communities Unlimited, and the item ended after a testy confrontation on January 9th.
The item on Dilley's city council agenda seemed innocent enough:
"Discuss & Consider Communities Unlimited Presentation by Cesario Vela."
Communities Unlimited, a 40-year-old non-profit with a presence in five southern states, offers free water and wastewater infrastructure analysis to small towns in rural areas, funded by the United States Department of Agriculture, helping fulfill the federal agency's mission of providing aid to remote areas.
Considering the city's recent history of violations and enforcement actions from TCEQ, Dilley and Communities Unlimited seemed like a good match.
"First of all I want to start by thanking the city council members and management for the opportunity to promote our no-cost technical assistance program," said Raul Gonzalez, Senior Management Consultant of Communities Unlimited. There it was, in the first sentence of the presentation: "no-cost." And it was a term gently repeated several times, in case anyone missed it.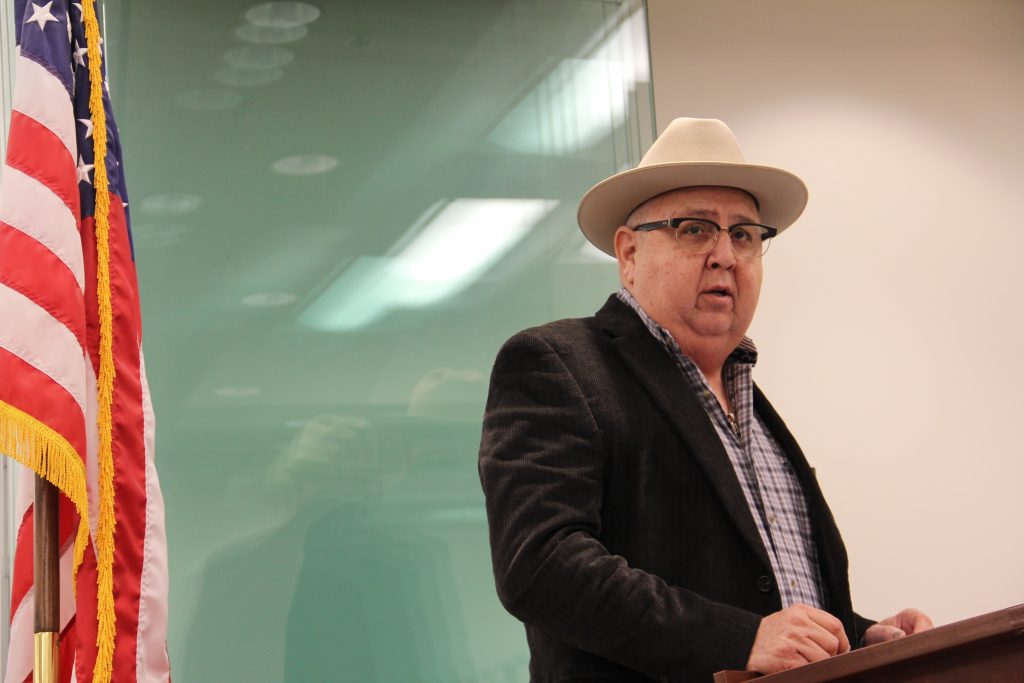 "The project begins, for us, is to identify we already know that you have a violation with TCEQ and the EPA," he said, referring to the federal Environmental Protection Agency. The EPA's website confirms this, showing "significant violation" under compliance status in Dilley's water plant and prison wastewater plant. If the council knew about the EPA violations, it had never been disclosed in a city council meeting. They also never expressed surprise at this piece of information nor asked a follow-up question about the new federal violation.

If Communities Unlimited were to work with Dilley, Gonzalez said without making presumptions about Dilley's decision, it would be a hands-on experience, providing financial, management, and technical assistance to resolve Dilley's issues with TCEQ and now the EPA, which have dragged on for more than two years.
Raul Gonzalez handed the presentation to Cesario Vela, Development Management Specialist at Communities Unlimited. His first sentence reiterated the no-cost theme. "All of the services that we provide are free." Vela continued, "specifically, the EPA sent us a referral to the city of Dilley because of the water/wastewater plant. So what that would entail is that I would need to meet with the city administrator, and the operators so we can discuss what's going on and how the problem is going to be solved. I'm going to have to have access to Mr. Alvarez and to his operators so that I can evaluate what's going on and what are you all going to do to resolve those violations with TCEQ. All you need to do is start the application process."
"Can I ask a question? What are we applying for?" City councilman Ray Aranda asked.
Perhaps misunderstanding the question because two people had just explained Communities Unlimited's services, Vela instead elaborated on the application process.
"But who sent you the referral to the city of Dilley?" Aranda asked in a defensive posture. A curious second question, considering it had just been mentioned for the first time in a city meeting that Dilley was out of compliance with the Environmental Protection Agency- a much more significant concern.
"The EPA has a contract with us to provide technical assistance to water utilities in the state. Mainly, the ones that are out of compliance. So I have a list of 15 utilities in Texas that they sent us. And the city of Dilley is one of them."
"And you're saying you're going to come in and do the work for free?" Aranda asked, incredulous.
Again, another disconnect. Aranda probably meant to clarify if there would be a cost to the city of Dilley. And again, since this had been addressed several times, Vela simply reiterated the process, which included trainings, going through documents, etc. Unwittingly, Vela struck a nerve, with Ray Aranda in particular.
"I think there has to be an agreement from the city council before you start asking for documents!" Aranda said. "You're talking about already doing the work!"
"It's a second opinion, sir. Another solution to the problem that we have at this time," councilman Sabino Mena said, referring to the $7 million dollar wastewater treatment plant. Theoretically, Communities Unlimited may determine that a new $7 million wastewater treatment plant is not necessary, and that a simple change in operation could solve the current wastewater problem. Maybe not. But the cost of their analysis is zero to the city of Dilley. Furthermore, the city would be able to use their own engineers and contractors to execute the solution- which means Communities Unlimited does not have a financial stake in whatever conclusion they find. Currently, engineering company LNV, Inc. has determined that Dilley needs the $7 million dollar wastewater treatment plant, and they will also design and oversee the project without a bid.
"We apologize if you all misunderstood what we were here for," Vela said. "We were not here to force you. We were told to tell you all that if you wanted to, we were ready to assist. That's all."
"But where is the funding source?" Aranda asked, even though the answer had been addressed several times. "How are you going to get paid?"
Vela elaborated on the systems of contracts between federal agencies, such as the USDA and EPA. Essentially, Communities Unlimited is funded by the federal government- federal taxpayer money potentially put to good use in Dilley. Ray Aranda seemed to be on a mission to deep-six their effort.
The representatives tried to allay Aranda's concerns. The city could keep their engineering company. They could keep their banks. And they could still solicit Communities Unlimited's free services to make sure the water and wastewater plants are finally in compliance and communicate properly with TCEQ and the EPA.
Aranda was still baffled by their presence. Cesario Vela tried to explain.
"TCEQ goes through all the records, and tells our company, this is the list of systems that you need to go to," Vela said.
"So they're basically telling you, these are the cities where you could possibly get a job," Aranda said. It was an insult, plain and simple. Delivered to representatives from an established non-profit, referred and funded by a federal agency, to offer free services to the city of Dilley.
"Let me just say this," Vela said. "If you want us to leave…"
"No, I'm just saying that what's on the agenda is one thing but you're saying compliance is another thing," Aranda said.
It was a reach to find a technicality to end the discussion. The agenda only said "presentation." The reps from Communities Unlimited were presenting. Even city attorney Bobby Maldonado disagreed with Aranda's legal opinion.
Maldonado added, however, that perhaps a letter of introduction from the USDA, EPA, or TCEQ would have helped, which is true. Of course, it is also possible that a letter of introduction was sent, but lives in the same pile of neglected notices of violation from TCEQ that exacerbated this problem in the first place.
It is also worth noting that no one magically appears on the agenda- a human has to type the agenda, then post the agenda. Presumably Communities Unlimited was vetted enough to be included at the meeting. No one from the city spoke up.
However, Maldonado attempted to bridge the divide between the reps and the city council, or at least, Ray Aranda. It didn't go over well. As voices rose, Mayor Mary Ann Obregon, City Councilman Gilbert Eguia, and City Administrator Rudy Alvarez attempted to calm flaring tempers.
Tense "thank yous" were exchanged. The representatives left, the city council moved to the next item without a motion. Regarding the proposed  $7 million dollar prison wastewater treatment plant, a meeting between the city attorney, utility consultant Jeff Snowden of Capex Consulting, and representatives from the Texas Department of Criminal Justice is planned for next week in Huntsville.
Candidate filing for the city council opens on Tuesday January 17, 2018. The seats currently held by Esmeralda Cano (place 3), Morelsa Aranda (place 4), and Ray Aranda (place 5) will be up for election.
Not asked in the city council meeting: an EPA violation??!!
In anticipation of inevitable charges of bias, an unedited recording of this agenda item is available here:
Clip 01:
Clip 02:
Clip 03:
Clip 04:
Clip 05:
-written by Jose Asuncion. 
Jose received an MFA from University of Southern California in 2008, a BA from the University of Illinois at Chicago in 2003, and currently lives in Dilley, TX, home of his grandparents.