Fresh on the heels of a victory in an election in which she defeated a twelve year incumbent, District Attorney Audrey Gossett-Louis of the 81st Judicial District addressed and attended Dilley's March 14, 2017 city council meeting, where she outlined the duties and goals of her office.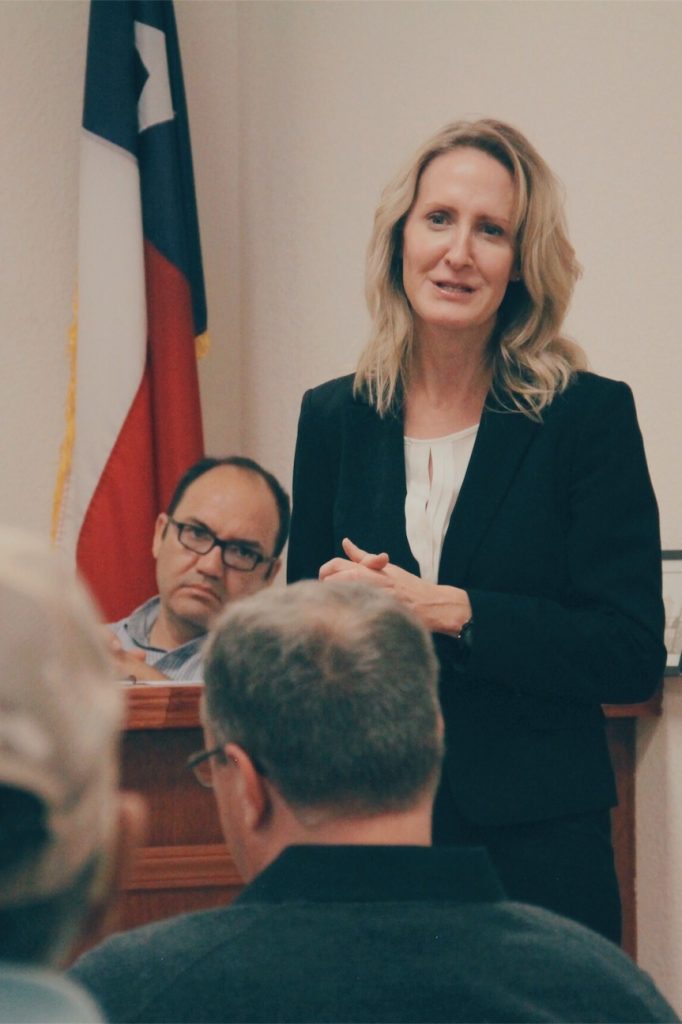 District Attorney Audrey Gossett-Louis stood in front of the residents of Dilley, TX- a crowd that included city contractors, a city council challenger and two challengers for the mayoral office.
"I am your new District Attorney," she said. "I am here for the community of Dilley. We cover five counties.  We handle all of the felonies for five counties: Frio, LaSalle, Atascosa, Wilson, and Karnes. We handle all felony crimes in our district and crimes that are committed by public officials.
"We'll be working with the new Chief [Reyna] here to help Dilley get cleaned up and aggressively go after some prosecutions that have not been done in the past. I can tell you we had a 1500 case backlog of cases pending grand jury. That means someone's arrested and they've never been formally charged. Of those 1500 cases– 700 of those were in Atascosa County alone.
"We're working hard, we've got a very fresh team. April Perez is the person who is the prosecutor for Frio County. She is from Lufkin, so she knows no one here, which I think is a good thing. So every case will get called like it should be, regardless of who you are or who you know. And that's the way we'll prosecute people. It's going to be based on the offense they commit, not who the person knows.
And if you have any concerns or questions, I'm happy to answer them, and I'm available at any time."
Dilley City Councilwoman Esmeralda Cano was the only councilperson to ask a question. "Do we go through you or do we go through Miss April, if we need something in reference to the Dilley area?"
Gossett-Louis answered, "If it's related to a specific case, April is the assigned prosecutor for the district. However, if it's something related to corruption or something that needs to be investigated, that's going to go directly through me. I'll be handling all the prosecution of public officials. We already indicted five people in La Salle County who were former public officials…
"We get lots of reports of open meetings violations. In the near future, we'll start doing training, district wide. For ISD, for city councils, anybody that wants to come to make sure everybody understands the open meeting rules, and then understands that you're on notice, and we'll be prosecuting those cases. It comes up way too often. Did y'all have any questions?"
When no one answered immediately, Gossett-Louis broke the gravity of the moment, eliciting some laughs from the room. "It's free game! Take your shots, I'm right here!"
There were no questions, but Gossett-Louis took a seat with the Dilley residents to observe the meeting that had just begun.
"I'll hang out for a little while…" she said.
–written by Jose Asuncion. 
Jose received an MFA from University of Southern California in 2008, a BA from the University of Illinois at Chicago in 2003, and is a former writer/photographer for the Frio-Nueces Current of South Texas. He currently lives in Dilley, TX, home of his grandparents.