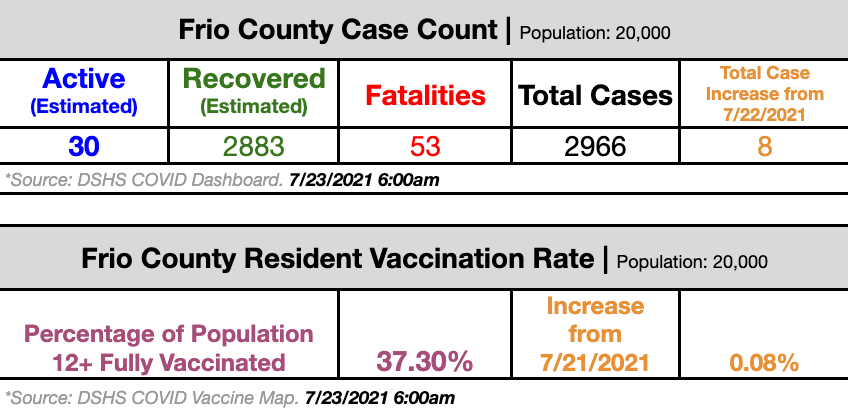 THE WEEK OF JULY 17-23

Texas Department of State Health Services reported:
29 New Covid Cases
Active
cases decreased by: 1
Recovered
cases increased by: 29
The disparity between
active
and
recovered
cases indicates a lag in reporting by DSHS. Cases were not added to the State of Texas Covid Dashboard until they were already recovered.
Fatalities
Increase: 1
The death of a Frio County resident was reported on the State of Texas Covid Dashboard on July 22, 2021. It was the first Covid death reported in Frio County by DSHS since April 27, 2021
Immigration and Customs Enforcement reported:
42 New GEO Pearsall Detainee Covid Cases
127 New CoreCivic Dilley Detainee Covid Cases
10 New La Quinta Pearsall Detainee Covid Cases
Texas Department of Criminal Justice Reported:
TDCJ's Briscoe Unit in Dilley, recently emptied for conversion to an immigrant jail, has not shown an increase in Covid cases yet. However, the population is still low as TDCJ begins the transition of Briscoe from state prison to immigrant jail: https://www.texastribune.org/2021/07/21/texas-prison-immigrant-jail-briscoe/
Frio County Vaccination Rate:
Frio County's Fully Vaccinated Rate (age 12+) increased 0.46% for the week.
The onslaught of Delta variant news did not appear to have an effect on vaccination rates, as the number of vaccinations slowed the last two days of the week. This could be due to a lag in reporting, however.
COVID Hospitalizations out of Total Region P Hospital Capacity:
This week's Covid numbers led the Frio County Judge to request this notice on the Frio-Nueces Current Facebook page:
–written by Jose Asuncion, Frio County Commissioner, Pct. 4