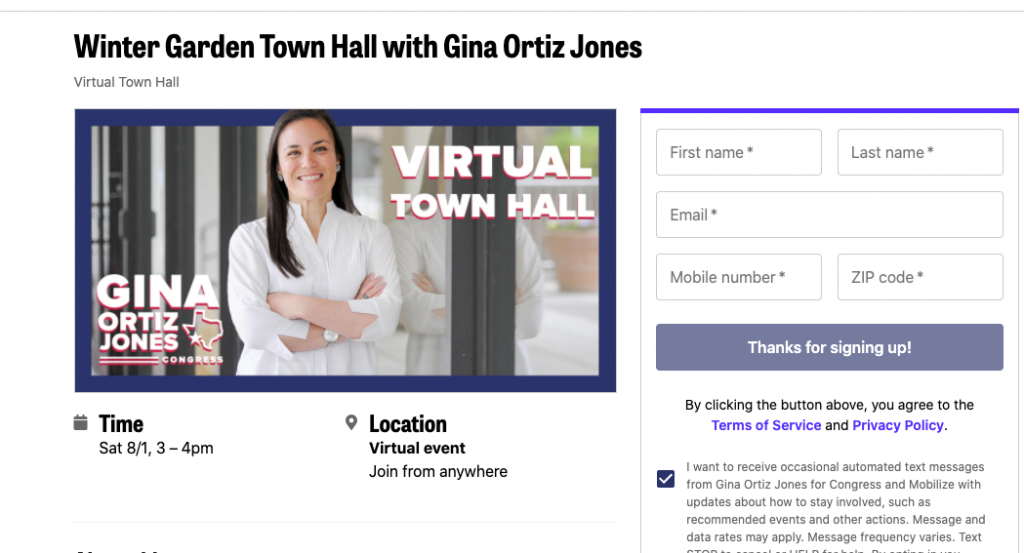 I've had the opportunity and pleasure of speaking with U.S. Air Force veteran Gina Ortiz Jones several times this year. As COVID-19 suddenly compounded my duties as a first term County Commissioner, I appreciate everyone who actively contacts me with help to offer. Gina Ortiz Jones reached out early and often, and our conversations about other counties in the district yielded valuable ideas for our COVID response in Frio. As the site of one of the hottest of hot spots in the country at one point, we needed all the help we could get.
This Saturday, August 1st at 3pm Gina Ortiz Jones will host a virtual town hall focused specifically on the Winter Garden region including Frio, La Salle, Dimmit, and Zavala- an area that feels closer in identity than any zone established by political districting. Gina Ortiz Jones is campaigning to fill the seat vacated by outgoing Congressman Will Hurd.
The virtual town hall is a perfect opportunity for those of us that want to be more involved in learning about the people asking to represent us. And since it's virtual, we don't have to change out of our pajamas, fill up the gas tank, or find ways to keep the kids entertained- just click on the link…
About Gina Ortiz Jones (from ballotpedia):
Gina Ortiz Jones' professional experience includes serving as director for investment at the Office of the U.S. Trade Representative and as the senior advisor for trade enforcement. She is a U.S. Air Force veteran where she served as an intelligence officer in Iraq. She earned her master's and bachelor's degrees in economics and a bachelor's degree in East Asian studies all from Boston University. She also earned a graduate degree from the U.S. Army School of Advanced Military Studies.
–written by Jose Asuncion, County Commissioner, Pct. 4