If there's something you want from the council, don't let them tell you to wait until after the election- there's still plenty of time to see some action. Here are several pending issues taken up (or not) by the city council since the elections of Sabino Mena, Gilbert Eguia, and Mayor Mary Ann Obregon, whose seats will be open this year.
WATER RATES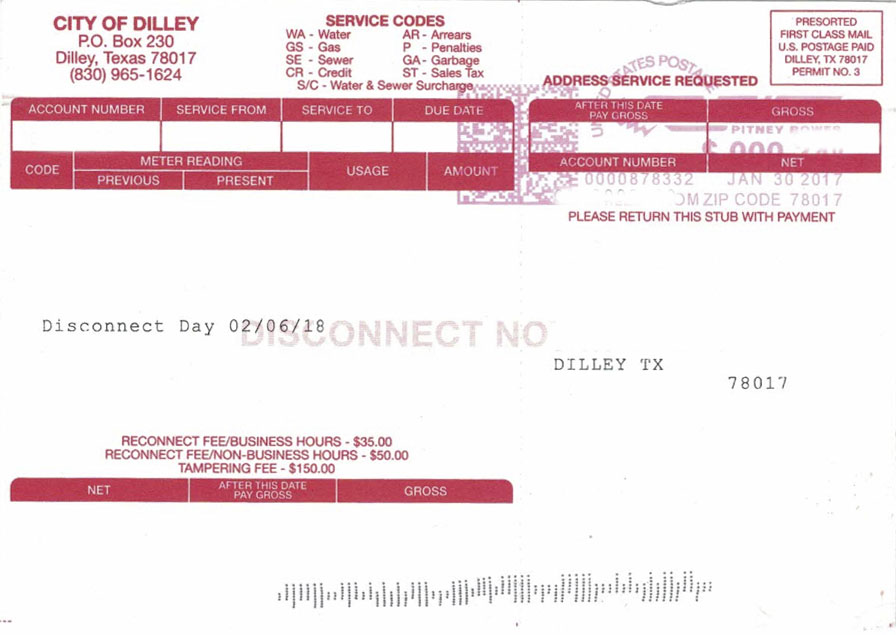 The perception of Dilley's high water rates was undoubtedly the number one issue that drove Dilley voters to the polls in the past two elections. One year ago, councilman Sabino Mena requested a presentation from a non-profit funded by the United States Department of Agriculture, who would provide a water rate study for free, as well as research reported water billing inconsistencies in Dilley.
The council rejected the organization's services, but a few months later, three new councilmen were elected. As of January 27, 2019, the issue of residential and commercial water rates has not been revisited on a city council agenda, and remain unchanged despite the expiration of Dilley's water rate schedule in October 2018.
If the new council believes there is no issue with water billing, an independent investigation would at least show due diligence and an effort to address rate-payers' concerns.
NEW CONTRACT
The biggest news of the last year that flew under the radar of local coverage is the new contract between the Department of Homeland Security and the city of Dilley for CoreCivic's South Texas Family Residential Center.
The contract represents $418,000 in new general fund revenue to the city. For comparison, the city of Dilley's entire general fund revenue was only $500,000.
So far, $222,000 of this fiscal year's CoreCivic revenue has been earmarked for the purchase of two buildings and two additional police officer positions. It remains to be seen how the rest of the $418,000 will be spent, or if it will be used to provide property tax rate relief.
TEXAS COMMISSION ON ENVIRONMENTAL QUALITY VIOLATIONS
One of the violations regarding the prison's wastewater plant was opened in early 2017 and is still listed as "current" on TCEQ's website. The problem was compounded when in August of 2018, the city wastewater superintendent reported a sewage spill at the prison plant of 20-30,000 gallons. On December 3, 2018, the city council formed a committee to review submissions for potentially hiring a replacement city engineering firm.
PARK BATHROOMS/FIELDS
On April 10, 2018, in a transparent attempt to appeal to little league affiliated voters before the election, the city voted on a location for new bathrooms and a new playground set. Former councilwoman Esmeralda Cano presented a plan to rearrange the park baseball fields to better accommodate youth sports leagues.
The $200,000 quote for a bathroom facility with four toilets and a urinal was met with surprise by many Dilley residents. The project was never started.
The baseball fields have not been rearranged.
The playground set was installed near the city swimming pool for $82,000.
EVENTS
Following the high turnouts of National Night Out and the Christmas parade, Dilley's events have gained some momentum. At the January 10, 2019 meeting, councilman Sabino Mena upped the ante, proposing a $50,000, two-day, 4th of July festival. Typically, Dilley spends between $4,000 and $8,000, and budgeted $10,000 for the entire 2018-19 fiscal year.
Mayor Mary Ann Obregon was taken aback at the proposal that was light on details. As she tried to delay the discussion for a later date, councilman Gilbert Eguia seconded Mena's motion. The $50,000 4th of July festival passed on a 4-1 vote, with Alicia Machado opposed.
DILAPIDATED BUILDINGS
Dilley's east side has long been plagued by vacant structures hollowed out by neglect, fire or other destruction. On November 13, 2018, Dilley updated a dilapidated building ordinance that allows the city to charge a criminal offense, impose a fine, and gives the city the ability "to remove, repair, demolish or secure a building in violation of the regulations."
The ordinance was passed only a few months ago, and at least one structure on Colung@ Street has made some progress toward cleanup.
CITY WEBSITE
The city of Dilley's website has been improved to (1) allow payment of utility bills online (2) make agenda "packet" documents available from each meeting (3) host minutes from past meetings and (4) host some ordinances.
WELCOME TO DILLEY SIGN
On October 8, 2018, the council commissioned a contest to select a new "Welcome to Dilley" sign to replace the damaged signs that became another election issue last April. The city is accepting contest submissions until February 1st while the old signs still stand.
ECONOMIC DEVELOPMENT
The city of Dilley has agreed to acquire "property for economic development purposes," though further details have not been discussed in open session. One clue was in a recent budget amendment to include "the purchase of the Nix building and the dental clinic."
INCREASE IN POLICE FORCE
The city police's new vehicles have arrived, if you haven't noticed them parked in front of the police department.
Also, the city of Dilley increased the police department budget to staff two more police officers for a total of twelve positions, one of which will be code enforcement.
ELECTION INFORMATION
The deadline to file an application for a place on the ballot for Dilley's city council election is Thursday February 15th. Seats open for election will be:
Mayor, currently held by Mary Ann Obregon
Council Seat 1, currently held by Sabino Mena, Jr.
Council Seat 2, currently held by Gilbert Eguia.
–written by Jose Asuncion.
Jose received an MFA from University of Southern California in 2008, a BA from the University of Illinois at Chicago in 2003, and is currently the Precinct 4 Frio County Commissioner.